posted in
other news
on 26 May 2012
by Andrew Lang
View by Categories
|
View By Latest
New Microblog Feature with the Template
There's definitely a need for site owners to communicate with their visitors directly - often in a kind of present-tense style - to let them know about something that's happening now. Maybe it's :-
new products that have just come into stock
a new voucher code they want to let them know about
a new sale now on
company news
an opinion on some event happening now
...anything!
Most people rely on Twitter to communicate in this way with their customers, but that can become a bit clumsy if you're trying to communicate with your WEBSITE visitors in this way - which is what most people want to do - they want to ensure all visitors get their latest message. You can syndicate your tweets to appear on your site, but often they just lack the impact to get noticed, and they never look properly integrated to the site.
And so, a new microblog feature has been added to the puresilva template:-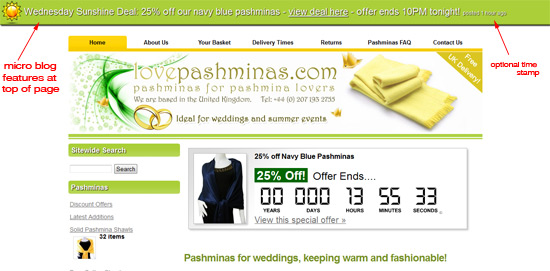 [click here to enlarge]
This allows a site owner to add a "current message" to their site at the top of each page, just like the above example. This is a bit different to Twitter in that there is only ever one message (no archive) and it can be used to speak to the visitor in present-tense since we know the context of the communication (on the website) whereas with Twitter there is no context (i.e. on twitter.com), or the context is unknown (tweet syndicated onto another site) - and you always need to provide a link to help with context. An example message that shows context : "Use this voucher code: SUNNY - and get 10% off all items - ends tonight at 10PM". No link necessary, and everything said directly to the visitor with full context. There's also a "fuzzy" timestamp that indicates when the message was published (e.g. "just now", "17 minutes ago" etc) - this gives the visitor an impression that the site is "alive" and up-to-date.
There are no limits to the character count, and images can be added, as well as HTML / links. Because the microblog is native, it can be fully customised to fit in with the design of the site too - colours, text size etc can be changed easily.
---
Share this article:
view my profile on
Google+